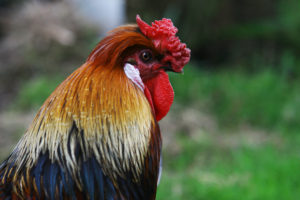 If you're catching your breath after the wild ride from 2016's Year of the Monkey, the Year of the Rooster promises a more logical and rational experience. Even if you don't believe in Chinese astrology, take-away lessons from this rooster year — which actually started January 28 — are common sense and universal.
Roosters are by nature proud, confident, hardworking and punctual. As each zodiac is associated with an element, this year's Fire Rooster exhibits warmth, passion and a keen intellect. The Fire Rooster is all about patiently plugging away, meaning making 2017 work for you requires some predictable hard work and persistence. So no need to worry about Monkey-ish wild cards, 2017 can be your year if you buckle down, make a plan and keep at it! This practical, grounded approach makes the coming year a good time to plan and take calculated risks.
Healthwise, living like a rooster will make for a vibrant 2017. Sleeping and awaking early and getting regular exercise keeps roosters fit and energetic. Roosters live by routine, so be mindful of regular medical exams and preventative health measures like acupuncture and massage.
Keeping up with the ambitious and assertive character of the Fire Rooster just involves a little planning and self-care.  Happy Chinese New Year!