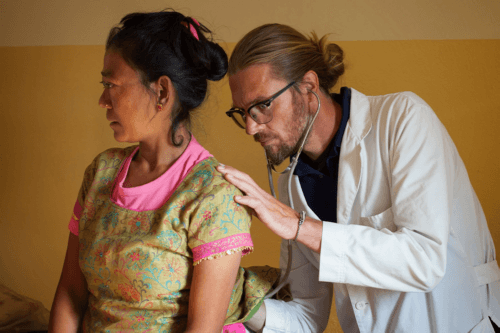 I have recently joined the board of Mindful Medicine Worldwide (MMW), a registered nonprofit that provides affordable Chinese medical treatment in the highlands of Nepal. For many local residents, the MMW clinics are their only available health care option.
MMW's two clinics are staffed by volunteer acupuncturists, who donate their services for a minimum of two months. I am now running an Indiegogo campaign to raise funds so MMW can hire another translator. The translators play a vital part in treatment as they help the Nepali-speaking patients communicate their health concerns to the mostly English-speaking acupuncturists.
Since 2009, MMW (http://www.mindfulmedicineworldwide.org/#!) has provided approximately 90,000 treatments and sent 38 professional acupuncturists to the clinics in Bhotechaur and Chanauti. Many local residents are farmers who suffer from work-related pain conditions. Acupuncture treatments allow these farmers to continue pursuing their livelihoods in spite of such conditions as back pain, knee pain, paresthesia, post-stroke and respiratory disorders.
Contributors receive a tax deduction for the year they contribute. Please check out my Indiegogo campaign and consider donating to this very valuable and worthy cause!
www.indiegogo.com/projects/mindful-medicine-worldwide/x/9342322
* * *
Heritage Acupuncture serves the Durham Chapel Hill RTP area and offers acupuncture, Chinese herbalism and Asian skin care services. Janet Lee, L.Ac., specializes in orthopedics and internal medicine.