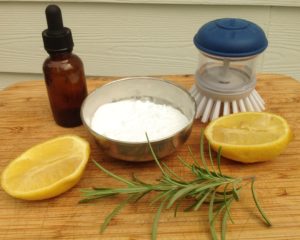 Do you want a clean house without using chemical-based cleaners? Use the amazing powers of essential oils to keep a clean and green house. In the final installment of our essential oil series, we'll learn some of the many ways to employ essential oils to enhance existing cleaning products or make your own products from scratch.  
Most essential oils with powerful cleaning properties happen to smell great as well. Basil, rosemary, sage, oregano, spearmint, eucalyptus, thyme, ginger, clove, lavender, lemongrass, peppermint and rose geranium have antibacterial, antifungal, antiseptic and antiviral actions. Mix and match according to your personal preference. For example, lemongrass smells great with sage and also mixes well with ginger.
Here are some fresh ideas for green cleaning:
▪Dishwashing: Want to keep it simple? Use your own natural dishwashing liquid and add a few drops of essential oils to boost its antiseptic and aromatic qualities. Try lavender, pine, lemon, bergamot or Melaleuca.
▪All-Purpose Spray: Combine two cups water plus two cups white vinegar with 20 to 30 drops of lemon, orange, eucalyptus, peppermint or lavender (or any appealing combination thereof) in a glass spray bottle. Shake thoroughly before use.
▪Laundry: Just 2-3 drops of essential oils in the wash cycle enhances the cleanliness of your detergent, imparts a fresh aroma and helps the washing machine stay clean. Try fir, spruce, cedarwood, rosemary or geranium.
▪Carpet: Deodorize your carpet naturally by adding 15-20 drops of essential oils to a cup of baking soda. Mix well and let sit in a covered container overnight to give the oils time to absorb. The next day, sprinkle the mixture over your carpet, let sit for 30 minutes to an hour, then vacuum. Great essential oil choices for carpets include grapefruit, ginger, lemon, bergamot, rosewood, lemon and mandarin.
Bathroom: Here's a great recipe for tubs, showers and countertops. To use, shake well first and then spray over the surface (toilet, countertop, bathtub, floor) and wipe clean. Combine in a six-ounce spray bottle:
40 drops lemon essential oil
30 drops tea tree essential oil
30 drops peppermint essential oil
20 drops cinnamon bark (or leaf) essential oil
Then fill to the top with white vinegar. 
We hope you've enjoyed our series on essential oils. Whether you're cleaning the house, relaxing after a long day or making a skin care blend, these precious oils offer many powerful and pleasing choices.