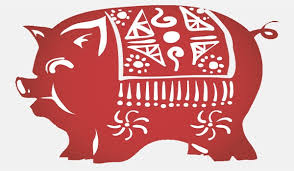 We're out of the dog house and into the Year of the Pig in the Chinese zodiac cycle. February 19 marks the Chinese lantern festival, the finale in the New Year's festivities. It's a celebration indeed, as the Earth Pig promises a year with strong potential for love, prosperity and stability.  
Legend has it that the Jade Emperor decreed the sequence of zodiac animals to mirror the order in which they appeared at his party. The carefree Pig overslept, arrived last and now takes 12th place in the last year of the Chinese zodiac cycle. The Pig is a welcome followup to the 2018's Year of the Dog, which was marked by rapid-fire activity. 
What will the Year of the Pig bring to you? Being the last zodiac animal means your long-term projects should see finalization this year. This year's Pig aligns with the earth element, meaning it's a favorable time for projects to take root in a strong environment. In general, the Year of the Pig is associated with renewal and new beginnings. In Chinese culture, pigs are considered lucky signs that attract good fortune and wealth. And the association with the earth element means the Earth or "Golden Pig" should bring calm and balance to your life.
People born during the year of the Pig (1947, 1959, 1971, 1983, 1995, 2007, and 2019) are considered philanthropic and generous, but also disciplined and hard-working. Social and friendly pigs have a zest for life and enjoy entertaining. These traits mean 2019 is not only a good year for business, but a great time for thriving friendships, as well.
In terms of health, the earth element rules digestion in Chinese medicine terms. Thus, 2019 is the year to focus on healthy eating habits. It's a good time to learn to cook, join a local co-op or start a garden. Focus on earth-nourishing foods like squash, sweet potatoes, carrots and ginger. With a little self-care, you'll be able to fully enjoy the peaceful and prosperous Earth Pig year.