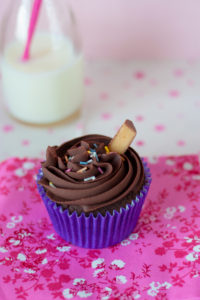 We all try to stay away from sugar, but because there are those occasional times when we indulge, it's comforting to use recipes that are mindful of our health and our tastebuds. Even if you're not celiac or gluten-intolerant, most people who go gluten-free experience positive results ranging from weight loss to less joint pain. Just like dairy, gluten is considered a heavy, sticky and damp food in Chinese medicine terms. Eating such foods can cause weight gain, bloating and sluggishness. So if you're going to treat yourself, going gluten-free makes a lot of sense. 

Here are some delicious recipes — for gluten-free brownies, chocolate cupcakes and blueberry muffins  — from chef extraordinaire Amanda Cushman. Amanda, who recently settled in Durham, NC, is a culinary educator who has cooked professionally for 30 years. She began her food career in Manhattan and worked with Martha Stewart and Glorious Foods before becoming a writer for such publications as Food and Wine and Cooking Light.  As a private chef and cooking instructor in Los Angeles, she worked with clients such as Neil Patrick Harris, Molly Sims, Anne Archer and Randy Newman.

Amanda is now available to teach cooking classes and prepare private dinners. Check out her Web site: http://www.chapelhillcookingclasses.com/

Happy baking!

Gluten Free Chocolate Cupcakes (Makes 12 cupcakes)
Ingredients:
1/2 cup coconut flour
6 tablespoons Valhrona cocoa powder
1/4 teaspoon baking soda
1/4 teaspoon sea salt
6 large organic eggs
1/2 cup maple syrup
1/3 cup coconut oil, melted
2 teaspoons vanilla

Frosting
4 Tb. unsalted butter
3 oz. cream cheese, softened
1 1/2 tsp. vanilla
1 Tb. lemon zest
2 Tb. lemon juice
1/2 cup gluten free confectioner's sugar, sifted
unsweetened shredded coconut, toasted, for garnish
Procedure:
Preheat oven to 350 degrees Fahrenheit. Line muffin tin with cupcake liners or spray with cooking spray.
In a medium-sized mixing bowl, whisk together dry ingredients. In a separate bowl whisk together eggs, syrup, coconut oil and vanilla. Pour wet into dry ingredients and quickly whisk together.
Spoon batter into muffin cups. Bake for 20 to 25 minutes. Cool completely on a wire rack.
Combine butter, cream cheese and vanilla and mix well with electric mixer. Add lemon juice, zest and powdered sugar and beat. Spread frosting over cupcakes and garnish with shredded coconut if desired.
Gluten Free Blueberry Muffins (Makes 12 muffins)
4 Tb. unsalted butter, melted or coconut oil
1 cup milk or almond milk
2 large eggs
1 1/2 tsp. vanilla
1/2 cup honey
1 1/2 cups almond flour
1/2 tsp. baking soda
1/2 tsp. cinnamon
1/2 tsp. cardamom
1/2 tsp. salt
1 1/4 cups fresh organic blueberries
Topping:
4 Tb. cold unsalted butter, melted
1/4 cup almond flour
1/4 cup coconut sugar
1/2 cup chopped walnuts or almonds
Grease muffin pan. Heat oven to 350 Fahrenheit.
Combine butter, milk, eggs, vanilla and honey in medium bowl and whisk.
Combine flour, baking soda, spices and salt in large bowl. Add wet ingredients and stir until just combined; do not over-mix. Fold in blueberries. Divide batter among the 12 cups.
Combine topping ingredients in small bowl and sprinkle over the muffin batter.
Bake until a toothpick comes out clean, about 20 to 25 minutes. Allow to cool before removing to a wire rack.
*These muffins can be frozen.
Gluten Free Brownies (Makes 16 brownies)
Ingredients:
2/3 cup good quality cocoa powder
6 Tb. coconut oil, melted
1/2 cup brown rice or almond flour
2/3 cup maple syrup
1/3 cup coconut sugar
1/4 teaspoon salt
3 large eggs
1 teaspoon vanilla extract
½ cup chopped walnuts, optional
Procedure:
Preheat oven to 375 Fahrenheit. Combine cocoa powder and coconut oil in small bowl and mix well. In separate bowl mix flour, sugars and salt. Add the cocoa mixture, eggs and vanilla and blend well.
Bake in 8 by 8 inch greased square pan for about 20 to 25 minutes or until brownies are firm but slightly soft in the center. Cool and then cut into squares.