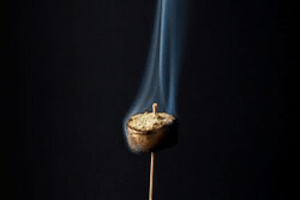 Have you ever walked past an acupuncturist's office and detected the scent of incense? Or a burning herb? If you think something's burning, it is!
Herbal applications come in many shapes and sizes in Traditional Chinese Medicine, ranging from topical application to internal teas. Moxibustion , an herbal preparation made from Mugwort is applied either directly onto the skin or held above acupoints. Moxa 's powerful effects include enhancing blood flow, relieving pain and nourishing soft tissue. Moxa strengthens the body's vitality and strongly stimulates it's healing capacity.
In fact, studies have documented moxa's biochemical effects on the body to include increased production of both red and white blood cells and improvements in blood and lymph circulation.
Using moxa on acupoint Stomach 36 on the leg is a centuries-old Chinese medical treatment to boost immunity and enhance longevity.
Because of moxa's portability, affordability and powerful results, it's the primary healing tool for an organization called Moxafrica (moxafrica.org). Volunteers with this nonprofit treat people suffering from tuberculosis in several African countries. These treatments have helped people significantly improve their health and lifestyles by boosting strength, relieving joint pain and restoring appetite. Check out this video from MoxAfrica:
* * *
Heritage Acupuncture serves the Durham Chapel Hill RTP area and offers acupuncture, Chinese herbalism and Asian skin care services. Janet Lee, L.Ac., specializes in orthopedics and internal medicine.