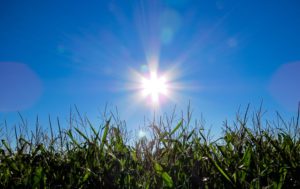 In just two weeks, the Sun will appear at its highest position in the sky — a position otherwise known as summer solstice. The solstice, when the Earth's rotational axis is most inclined toward the Sun, represents the most yang time of year in Chinese Medicine terms. Abundant yang represents growth, movement and light. Summertime means being more active physically and socially, compared to the yin or less active winter time. Chinese medicine encourages living harmoniously with nature and the seasons. Therefore, summer is a great time to be active, complete projects and enjoy carefree activities like socializing and traveling.
In Chinese medicine terms, summer is associated with the fire element, which corresponds to the heart. Healthy heart energy encourages joy, laughter and excitement. The fiery summer is a natural time to enjoy friends and activities, while balancing action with rest. However, overdoing the fun times can actually create too much hot qi, damaging body fluids and setting you up for illness in later seasons.
To enjoy abundant health in the summertime and beyond, eat a diet that encourages movement. This means fresh, light and seasonal foods. Most vegetables fit this bill, especially celery, watercress, squashes, tomatoes, cabbage, cucumbers and radishes. Herbs such as mint, basil and lemongrass aid digestion as well.
Avoiding heavy fare like fried meat, dairy and starchy foods will help you stay active and energetic. Although temperatures are higher in the summer, too many cold and raw foods can cause bloating and other digestive problems. If you're running warm, green tea naturally cools and detoxifies the body while providing antioxidants as well. In terms of warm weather dining, you can't go wrong with juicy, easily digestible and fiber-rich summer squashes. This zucchini recipe, from master chef Amanda Cushman (www.chapelhillcookingclasses.com), combines summer squash with digestive tonics like scallion and parsley.
Minted Zucchini Fritters
Serves 4
Ingredients
1 pound zucchini, coarsely grated
Salt
3 scallions, minced
1/2 cup grated parmesan (optional)
1/2 to ¾ cup plain or gluten-free breadcrumbs
3 Tb. chopped mint
½ cup chopped Italian parsley
1 egg, lightly beaten
Fresh pepper
Vegetable oil for cooking
Procedure
Place the zucchini in a colander and toss with 2 tsp. of salt. Place over a plate and weigh down with a heavy can, drain for 1 hour or overnight in the refrigerator. Squeeze out all the excess water.
Add the zucchini to a medium bowl with the scallions, cheese, breadcrumbs, mint, parsley, egg and fresh pepper. Using slightly moistened hands, form the zucchini mixture into 12 balls. Flatten them to make a ¾ inch patty. Test one out in a small skillet for seasoning. Re-season with salt and pepper if needed.
Heat a 2 1/2 -inches of oil in a medium saucepan and fry the patties until golden on both sides about 3 minutes per side. Transfer to paper towels to drain and sprinkle with salt. Serve the patties warm or room temperature.